The Manchester-Bedford Myoskeletal LLC clinic was founded to bridge the gap between chiropractic and massage therapy in Southern New Hampshire. We use special techniques developed for assessing and treating problems with both posture and muscle pain. We work with people who recognize they have postural problems (with or without pain).  Many of those are currently under a doctor's care or are referred to us for orthopedic or other musculoskeletal imbalances or dysfunction.
Manchester-Bedford Myoskeletal uses massage therapy techniques developed specifically for alignment of body structure. The process includes consultation, total body assessment, scientific protocols for treatment, muscle retraining and strengthening. These fully integrate with other forms of manual therapy such as chiropractic, acupuncture, and physical therapy.  We find this helps get the patient on the road to their best health and functional performance. Manchester-Bedford Myoskeletal's protocols require patients to actively participate in their own recovery. Thus, our patients are self-motivated and eager to improve.
Patients who come to us will find that we are not pain-chasers. Most often, cause of musculoskeletal pain is rarely found where the patient reports pain is felt. Rather, muscle strain patterns develop over time and pain and soreness is only a symptom of the root problem. Therefore, please understand that we may look for problems in your feet or knees, for instance, when you report pain in your back or neck. We treat the entire musculoskeletal system regardless of specific complaints. Our protocols are specifically built around the condition and lifestyle of the individual during assessments and may vary significantly between two people with the same complaints.
Manchester-Bedford Myoskeletal is located in the Bedford Commons medical community in the heart of Bedford's healthcare corridor. We have plenty of free parking and easy access, and are conveniently located near stores, shops, markets, and other medical services.
Your Myoskeletal Therapist, Joel Kouyoumjian, LMT
Mr. Joel Kouyoumjian is a New Hampshire Licensed Massage Therapist (Lic. #3348M) and Advanced Myoskeletal Therapist, certified by the Freedom From Pain Institute. He is a graduate of the Finger Lakes School of Massage near Cornell University in Ithaca, New York. Joel received his original state licensing (New York) after graduating from that school and continues to keep that license current. Mr. Kouyoumjian has earned continuing education through the Freedom From Pain Institute and the Benjamin Institute for Advanced Studies in Boston for Orthopedic Massage.
Bodywork is a second career for Joel. His interest in massage stems from his worldwide travels over the span of forty years as a merchant ship captain. He learned about acupressure points while in China, and developed a keen interest in helping people through manual therapy and acupressure. For the first many years of his second career, he formed three sole practitioner massage practices, Neptune's Touch Therapeutic Massage in New York, Joel Kouyoumjian Massage Therapy in South Carolina, and Joel Kouyoumjian, LMT in Maine and New Hampshire.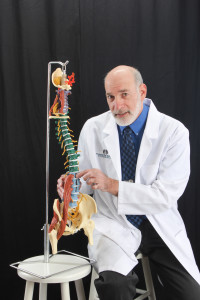 With his seagoing career winding down, he found his niche in remedial massage and myoskeletal alignment, a form of structural integration. Mr. Kouyoumjian combines massage therapy, Myoskeletal Alignment Techniques®, musculo-neural connective theory, movement patterning, and orthopaedic massage to help his patients get out of pain and stay out pain. Joel founded Manchester-Bedford Myoskeletal LLC because he has exceptional troubleshooting skills and recognized how so many people would benefit from his experience together with this type of bodywork.
Joel is originally from Massachusetts.  His career moved him around the country, living on the US east and west coasts, Scotland, and the British Virgin Islands before finally setting down roots here in New Hampshire in 2009.
When Joel isn't working on postural problems, muscle aches and pains, and dysfunctional muscle movement in his office, he has given seminars on massage and myoskeletal work at The Elliott Hospital in Manchester and performed sample sessions on rock climbers at Evolution Rock Climbing Gym in Concord. He's been asked to consult on muscle inhibition and facilitation on a patient with multiple sclerosis at United Physical Therapy in Manchester.
Away from manual therapy, the Captain rock climbs at indoor gyms in the Manchester area when he can. His maritime experience also developed a strong practical interest in meteorology, short-range forecasting, storm tracking, and weather observation, recording and reporting. Joel loves sailing in sailing ships and has served as Sailingmaster on board the Belgian flag SSVs Star Clipper and Star Flyer and Chief Mate of the ill-fated schooner Fantome as well as serving in and commanding several smaller sailing vessels. He taught himself the BASIC language and wrote several programs for his personal use including a flashing light studying program (a requirement for merchant marine officers), a data entry program for storing information he used to use during a research project, and a pre-GPS era ship routing program to determine and map out trade routes and distance-finding between worldwide ports.